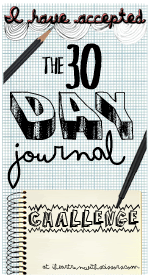 i am participating in Janel's 30 Day Challenge!
Its been rough because i am sooo not an artistic girl with a pen! :)
i have decided with my day 3 post imma go outside the pen! and use a picture! :)
but here is the first two days.
I started on this journal page 3 times. I couldnt see my ACTUAL self in the first two, so i ripped them out and started over. I believe this describes me well. I live out LOUD! I am always described as loud. in personality & sound. i sometimes think that word defines me. so thats why the 'lightining of sound' really does take over the picture instead of my name. around the bottom & right side, there is a list of some of my 'roles'. the top corner. the hearts and stars and squiggly lines. i am a hopeless romantic & my head is usually in the clouds. day dreaming, doing something other than living in reality!
Day 2 - The Best Part of My Day.
i LOVE love LOVE love driving to and from work. my radio is up as loud as it will go. i sing as loud as i want to. i think, i talk out loud, i cry, i have ALONE time. i love ALONE time. a few of my favorite songs. also. i kinda put another 'best part of my day' when i hear that lyric. im getting a good text! :)
im off to start day 3! :)